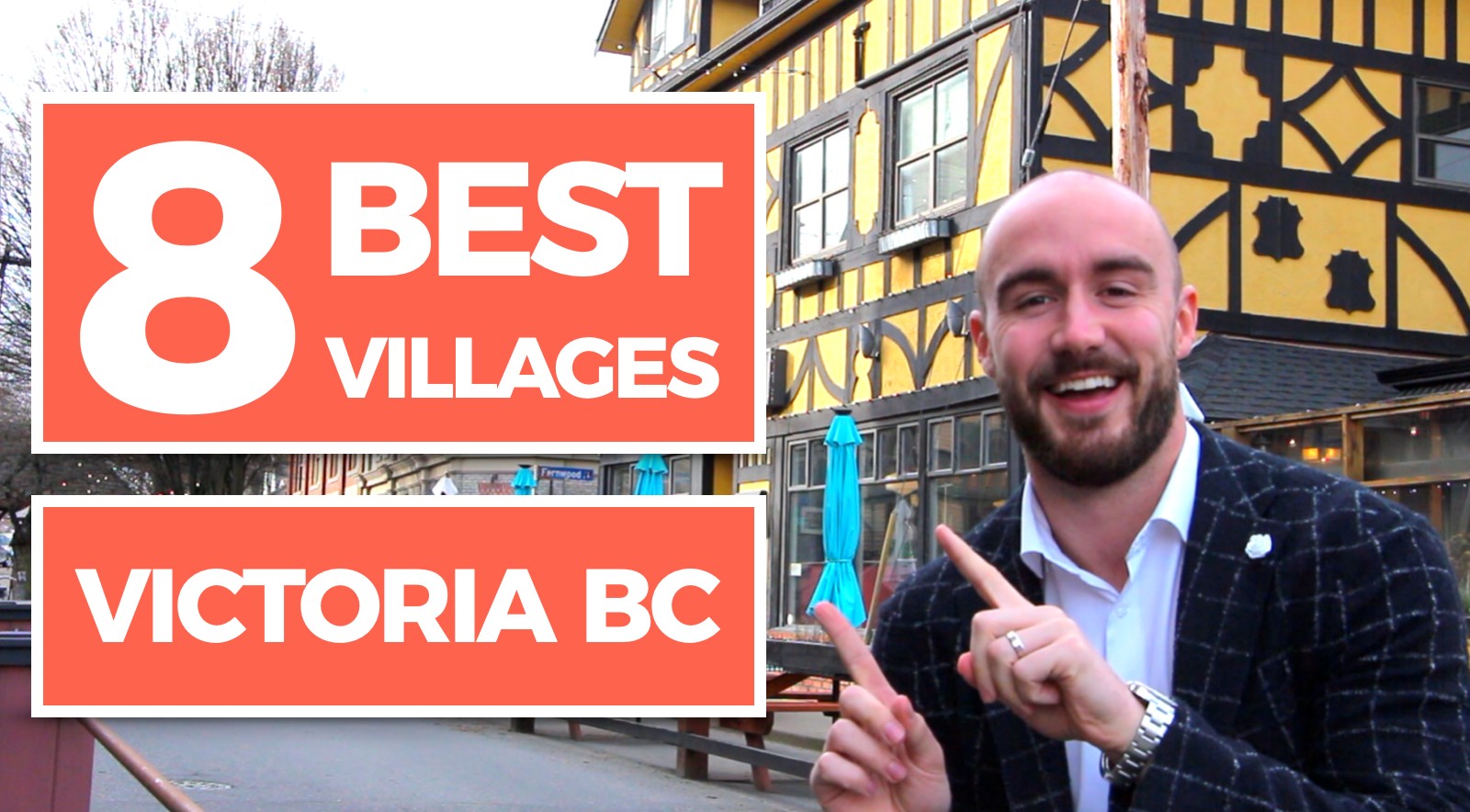 Top 8 Villages in Victoria BC
If you are thinking about moving to Victoria BC for the first time, you might want to identify the best neighbourhoods and villages. Almost every neighbourhood in Victoria BC has its own village. So whether you are weighing the pros and cons of one Victoria BC neighbourhood vs. another, considering Victoria BC Real Estate, or just want to get to know Victoria BC a little better, this is the video for you!
In this episode, we unpack my Top 8 Villages in Victoria BC. I tried to limit this list to more specific criteria and focused on the core neighbourhoods in Victoria. Stay tuned for more videos on other neighbourhoods and communities outside of Victoria, Esquimalt, Oak Bay, and Saanich. Although I'm an expert in the Victoria BC Real Estate market, Victoria is also my hometown. I'm passionate about the things that make the capital of BC great and wanted to share my personal experience of living in Victoria BC with Victorians, Canadians, and anyone else that is considering moving to Victoria BC on Vancouver Island, British Columbia.
Here's a recap of my Top 8 Villages in Victoria BC:
Honourable Mentions:
HM#1 Harris Green – a bustling section of Downtown Victoria BC that will undergo a significant facelift over the next few years.
HM#2 Fernwood – One of the most charming, historic, and quaint neighbourhoods in Victoria BC has a lovely village centre at Fernwood and Gladstone. These shops, galleries, theatres, and incredible restaurants didn't quite fit the bill for this list.
8) Estevan Village – A quaint seaside village just 2 blocks from Willows Beach. The downside is that this village in Oak Bay is split into 2 sections. The primary village is between Dunlevy and Musgrave, and there is another section near Willows school on Cadboro Bay Road.
7) Broadmead Village – A well-orchestrated plaza in a central location of Saanich BC. This village also boasts incredible access to other parts of Greater Victoria as it sits next to the Patricia Bay Highway which connects downtown Victoria with the Saanich Peninsula.
6) Westside Village – Located in Vic West this commercial complex has everything you need. The unique benefit of Westside Village is its location in a vibrant community next to Vic West Park, the Galloping Goose Trail Network, and waterways in either direction.
5) Esquimalt – An entire township with its own local governance but for this video, I'm focused on the Esquimalt Plaza. The plaza and stores bordering it are going through an exciting period of development and host some of Victoria's most beautiful seaside neighbourhoods. The home of the Lekwungen people for more than 4k years, Esquimalt was established as a naval centre in the mid-19th century. Canada's naval fleet remains here today.
4) James Bay – One of Victoria's oldest residential neighbourhoods sports an enticing village centre at its core. Sitting behind the British Columbia Legislative buildings, the 5-way in James Bay Village hosts a number of restaurants and storefronts. Although tourists can wreak havoc in the summer, the proximity to the inner harbour and Dallas Road make James Bay a special place to spend an afternoon or a lifetime.
3) Cadboro Bay Village – Idyllic Victoria BC Neighbourhood is just a block from Cadboro Bay Beach. Cadboro Bay is on the border of Saanich and Oak Bay along Victoria's eastern coastline. One other downside I didn't mention is that because of the proximity to the UVIC, Cadboro Bay and Cadboro Bay Beach do host some party-goers on occasion.
2) Oak Bay – One of Victoria's most coveted & expensive neighbourhoods hosts many kilometres of inviting storefronts and restaurants. Oak Bay Ave is a well-established and well-travelled road that runs East to West, connecting the neighbourhoods in Oak Bay to Downtown Victoria BC and Fairfield Victoria BC.
1) Cook Street Village – An iconic village in Fairfield Victoria BC. Incredible dining at pubs like the Beagle and restaurants like the Wine Collective. Unbelievable recreation and natural beauty in Beacon Hill Park & along the Dallas Road Waterfront. Let me know if you have any questions about living in Victoria BC, moving to Victoria BC, Victoria BC Neighbourhoods, or Victoria BC Real Estate. I would happily answer your questions about Vancouver Island and the Victoria Housing Market.
https://alexcarroll.ca/wp-content/uploads/2022/03/Eight-Best-Villages-in-Victoria.jpg
884
1600
Alex Carroll
https://alexcarroll.ca/wp-content/uploads/2023/03/teamlogo-carrollgroup-color-v4.svg
Alex Carroll
2022-03-01 00:02:59
2023-02-27 21:24:08
Top 8 Villages in Victoria BC