Fall Real Estate Update – Where's the Market Headed?
Hi everyone, I hope this message finds you and your families safe, healthy and in good spirits. I endeavour to bring you relevant market information, new listings, and the latest news which is shaping our local real estate market.

The pandemic continues to reframe the narrative of what living at home should mean, and low rates are inspiring moves and purchases alike. Although some of the larger markets in Canada have felt the pace of sales and activity decrease through the summer months, the pace of our local market has remained in a frenzy. Sales have dropped since the late Spring but a downward trend in inventory has followed the same trajectory. Consequently, the absorption rate (amount of homes sold vs. available listings) has remained relatively steady.

Before I unpack all of the statistics, I wanted to mention a few bits of noteworthy news from us from the last time this update reached you:
Team Member Lucas Hammond competed at the Tokyo Olympic Games with the Canadian Rugby Sevens Team. There were a number of hard-fought group play games and Canada reached the quarter-finals of the tournament. Lucas' successes on the pitch also garnered the attention of our national media, where the Globe and Mail featured the Carroll Group in an article (available here). We congratulate Lucas and the Canada Sevens team for representing our country well at the 32nd Games of the Olympiad.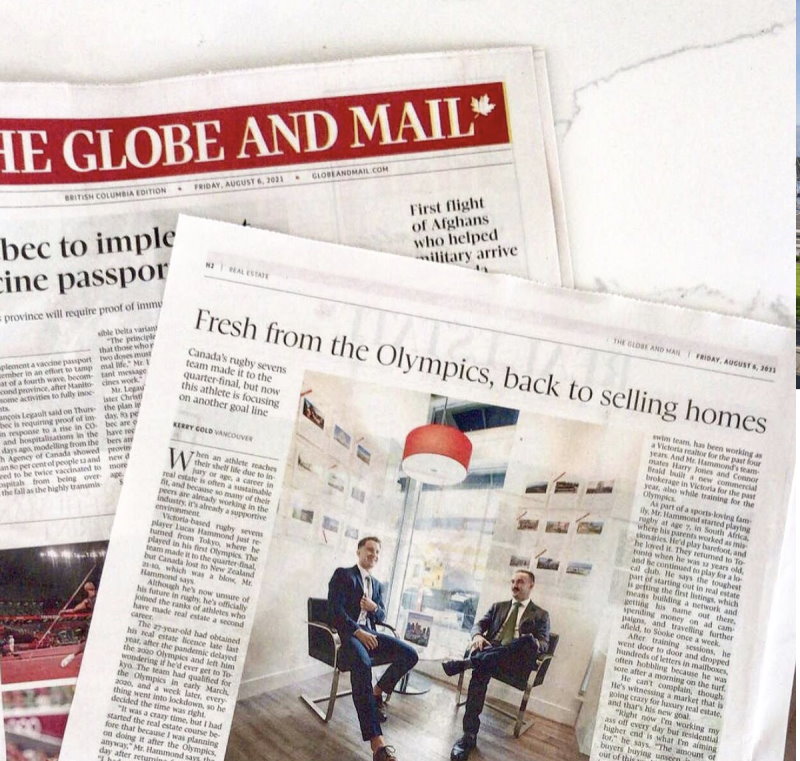 Now onto your regularly scheduled programming. Our real estate market has continued its rampant race from the start of the year. What's fuelling this price action? Low inventory and immense demand.

December's 25-year low of active listings (1279) climbed to a low peak in April (1470) but has been declining in each month since. At the end of August we reached the lowest mark our inventory has seen since VREB started collecting MLS data at 1153 active listings. Now that we're heading towards the winter months there's little to encourage the idea that a flood of inventory is on the way. With that said, my short-term view for the remainder of 2021 is that buyers will continue to battle it out intensely for the scarce supply that exists.

In all the ways that the market disfavours buyers currently, it's an absolute dream to be selling. More common in detached homes priced below $1,500,000, listings have a lifespan of about 5-6 days before reviewing any offers that are received. In attractively priced homes in the core neighbourhoods, this usually looks like 5+ offers and significant margins between the asking price and sales price. As I mentioned earlier this year, I've been in numerous situations where buyers are competing for properties selling for more than $300,000 over the listed price. I've been pleased to have sellers with sale prices as high as $176,000 over the listed price this year.
Chart of: The active listings on the VREB in any given month since January 2011.
Demand is easily represented by the sales figures so far this year. In 2020 we had 8,679 total sales on the Victoria Real Estate Board. So far in 2021 we have 7,574 sales and are on pace to exceed 10,000 sales for 2021. The last time we reached 10,000 sales was in 2016 with 10,981 sales. The market slowed in '17 and '18 with the introduction of stricter lending requirements and taxation on foreign buyers. Whether a newly formed government imposes similar restrictions to cool the market remains to be seen (comments on that later on).

Here are a few more insights from the year's stats so far:

Recall that there were 234 sales above $2,000,000 on the Victoria Real Estate Board in 2020. So far in 2021, we have had 290 sales above $2,000,000. Prior to 2020, the high was 146 in 2017.

In August we reached the highest median sale price of a detached home ever recorded on our real estate board at $1,100,000. The average sale price in detached also reached an all-time high at $1,238,900.

The average sale price of a condominium on the Victoria Real Estate Board for 2020 was $484,317. So far in 2021, the average sale price of a condo is $539,321 with the highest average for a given month also in August at $549,787.

Last year 85 condominiums sold above $1,000,000. In 2021 there have been 95 sales above $1,000,000 so far.

The average sale price of a single-family detached home in the core neighbourhoods (Victoria, Saanich, Oak Bay, Esquimalt, View Royal) is $1,321,400 in 2021. Last year it was $1,164,754

The record-setting year that it has been thus far isn't surprising to some of us. The pressure on prices is being supported by astonishingly low inventory, strong demand, and a continued shift of Canadians to Victoria. Another dominant theme over the last year has been Canadians shifting to working or spending more time at home and requiring more space. Low rates alone haven't inspired all these transactions. So what's next? On top of mind for many at the moment is the upcoming election and the impact that may have on the trajectory of the market.
Canada's leading parties have each offered their own strategies to help quell to the rapid escalation of home prices across the country. Whether publicly stated or within the depths of their party's platforms. These are the summaries of each:

Liberals
The liberal platform for housing is mostly rhetoric around the successes they have delivered since 2015 but also introduces some new initiatives.
– Continuation of Canada's National Housing Strategy. A supply-focused effort to increase available homes with 72 billion in resources (goal of creating 1.4 million homes by 2025-25)
– Continuation of Canada Housing Benefit agreement with provinces and territories to match contributions for lower-income rental housing
– First National Tax on foreign buyers which is a measly 1% on vacant homes (becomes effective Jan 1, 2022).
– Introduced First Time Homebuyer Incentive Program

New Initiatives:
– Rent-to-Own Program (vague)
– Tax-Free First Home Savings Account (Up to $40,000 for those under 40 for the purposes of a down payment)
– Updates to First Time Homebuyer Program (shared equity can mean the loan is repaid at time of sale and homeowner nets more from sale proceeds)
– Double the First Time Homebuyer's Tax Credit (5k to 10k)
– Reduce Mortgage Insurance Premiums by 25%
– Increase limit of insured mortgages from $1,000,000 to $1,250,000.
– Plan to build or revitalize an additional 250,000 homes over 4 years. Totalling 1.4 Million in total with the current National Housing Strategy by 2025-26.
– $4 Billion to a New Housing Accelerator Fund to reward municipalities that build homes faster than the national average.
– More funding for the conversion of vacant retail/office space, tax credit for intergenerational housing improvements, and support for indigenous housing and infrastructure.
– Introduce a Home Buyer's Bill of Rights which would: ban closed bidding, establish a legal right for a home inspection, ensure transparency in sale prices on title searches, and ensure banks and lenders offer mortgage deferrals for up to 6 months because of job loss.
– Introduce an anti-flipping tax on residential properties (requiring homes to be held for more than 12 months)
– Ban foreign buying of residential property for 2 years
– Review profits of large corporate entities and REITS and the criteria for down payments for investment properties.

Conservatives
Through the conservative platform, titled Canada's Recovery Plan, the plan for a response to housing in Canada is centred around increasing supply, limiting foreign influence on Canadian home prices, and altering mortgage requirements for Canadians:

– Build 1 million homes in the next 3 years
– link federal investment in public transit to where homes are being built
– Exemption on Capital Gains Tax when selling an investment property when funds are reinvested into housing
– Release at least 15% of the Federal Governments real estate holdings to convert to affordable housing
– Incentives for private land owners and corporations to donate property to land trusts for the development of affordable housing
– "For Indigenous, By Indigenous" approach empowers Indigenous communities to meet their own housing needs
– Establish a federal Beneficial Ownership Registry for residential property.
– Implement comprehensive changes to the money laundering legislation and give FINTRAC and law enforcement more teeth to prosecute money laundering in real estate
– Ban foreign investors not living in or moving to Canada from buying property for 2 years (after which it will be reviewed). Instead, encourage foreign investment in purpose-built rental housing
– Re-Implement the Housing First approach to aid in the fight against addictions/homelessness ($325 million over the next 3 years to create 1000 additional drug treatment beds and build 50 recovery centres across the country).
– Encourage a market in 7-10 year mortgages
– Remove the requirement to conduct a stress test when a homeowner renews a mortgage with another lender (currently has to be the same lender – this increases competition)
– Increase the limit on eligibility for mortgage insurance and index it to home price inflation
– Revise the mortgage stress test to be more inclusive of small business owners and casual workers.
– No capital gains tax on the sale of principal residences.

NDP
The NDP platform is less specific on targets and dollar commitments but does follow up on some of the ideas mentioned in the liberal platform with a greater emphasis on rentals.
– More affordable rental units are built across the country
– 500,000 units of affordable housing in the next 10 years
– Help spur the construction of affordable rental units by waiving the federal portion of the GST/HST on this kind of construction
– Reintroduce 30-year terms to CMHC insured mortgages on entry-level homes for first-time buyers.
– Double Home Buyer's Tax Credit to $1,500
– 20% Foreign Buyer's Tax on the sale of homes to individuals who aren't Canadian Citizens or permanent residents
– Public Beneficial Ownership Registry and require reporting of suspicious transactions (which is already done).

Overall none of the parties have provided much comment on the realities of where the Canadian housing market stands vs. where it was at the beginning of the pandemic. The reality is that we've seen a significant increase of housing prices because of strangled supply and lagging municipal process (some of which is addressed in the platforms), but the primary factor is government spending and inflation to suppress rates and keep demand on pace.
The thin inventory as we close out the summer is a huge concern for those that are trying to get into the market. My expectation is that the level of inventory will continue to be an issue for buyers for the remainder of 2021. One would expect that a lift in inventory and any nominal adjustment to rates (as bond yields change) may cool the market a little. Until either of those 2 occur in meaningful increments, I don't have any reason to believe we'll be out of multiple offers for the foreseeable future.

As we look to next year, the critical factor across the country will be fiscal policy. Most economists are projecting the Bank of Canada to keep its Target Rate at the effective lower bound of 0.25% until the second half of 2022. The foundation for variable rate forecasts is this target rate so don't expect significant changes until we see the BoC shift the Target Rate. Don't expect the variable rate to drop lower either.

On the other hand, fixed rate forecasts are tied to Government of Canada bonds and the spread between is the risk premium that lenders collect.  We've seen fixed rates creep up (into the 2-2.5% range) as the 5 year GoC bonds have lifted over 1%. Expect this trend to continue over the next year as the economic recovery continues.

Forecasting that rates will rise incrementally as 2022 unfolds and that many will return to work places and social settings, it's fair to assume that demand could lull slightly. Given the amount of variable mortgages on the national level it's unlikely that changes to rates will lead to significant delinquencies. Recall that the Liberals are also considering a mandatory 6 month mortgage deferral in the case of job loss so overall the supports will be there for Canadian households.

In little olde Victoria, inventory will be the critical question. Historically our peak of listings has been in the late summer, but this year our listing inventory reached all time lows at the end of August. Will we see that change next Spring and Summer? I have a hard time seeing it that way from where we sit currently as I think it's likely we go lower still through the winter months.

Observing 2021 as part of a market cycle, my position is that 2022 could look a bit like 2017. Rates creeping up and a return to the workplace will soften demand a bit and send us closer to 8000-9000 sales for the year. Overall the market will remain competitive without enough inventory to support the desire for Victorians changing house, and others moving to our beautiful city on the Island.

Feel free to reach out to us with any of your market related questions or if you would like some of our insight into your potential move this year or next!
https://alexcarroll.ca/wp-content/uploads/2023/03/teamlogo-carrollgroup-color-v4.svg
0
0
Alex Carroll
https://alexcarroll.ca/wp-content/uploads/2023/03/teamlogo-carrollgroup-color-v4.svg
Alex Carroll
2021-10-01 19:08:28
2022-08-30 00:24:21
Fall Real Estate Update – Where's the Market Headed?